SiteBox – Multi-Layouts Magazine WordPress Theme
2016 is here! Have you done unwrapping all your Christmas and New Year gift boxes?
Here we have another gift box for you, welcoming a new year with a new theme:
SiteBox
.
SiteBox is our latest powerful WordPress Magazine Theme which has various layouts you can choose. With 12+ possible homepage layouts, 6 Header Styles and 2 Footer Styles, you can change how your site looks every month until the next New Year
SiteBox also use Widgetized Homepage which can only mean you have more combinations for your site. All components arranged beautifully in blocks or boxes, hence the name, SiteBox.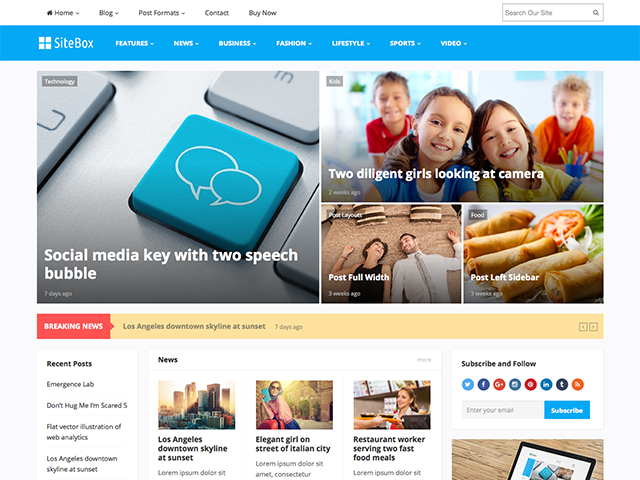 SiteBox Features
1. Responsive
Multiple layouts in this theme is responsive-ready. Please try the demo on your mobile device to see the responsive layout of this theme.
2. SEO Friendly and Schema.org Markup
SiteBox is built with Schema.org markup which is good for search engine.
It'll absolutely help you optimize your site in terms of SEO.
3. Custom Header and Custom Footer
SiteBox came with six different headers and two footer styles. Check this out:
Header Style 1 (default)
Header Style 2
Header Style 3
Header Style 4
Header Style 5
Header Style 6
Footer Style 1
Footer Style 2 (default)
4. Mega Menu
There are 2 types of mega menu you can use. 'Links' mega menu and 'Category' mega menu. If you see the demo, 'Links' mega menu is represented by Features. While Mega Menu items menu next to it is 'Category' one. For 'Category' mega menu, it displays recent posts from current selected category.
5. Multiple Homepage Layouts
Here is the main feature of SiteBox. You'll have five basic options for your Homepage Layout:
Wide Featured Content
Narrow Featured Content
Vertical Menu 1 (with Wide Featured Content)
Vertical Menu 2 (with Narrow Featured Content)
Full Width 4 Columns
#6. Customizable Home Page
You can easily customize the home page with drag and drop feature. SiteBox homepage are widgets based which means you only need to drag and drop the widgets to the Home sidebar.
There are total nine Widgets type you can use in this Home sidebar. Be creative and create a layout which match your style and preferences.
6. Custom Widgets
Want to show a Facebook Like Box and Twitter Timeline on your site? Or probably a brand new Most Likes Posts Thumbnails widget? SiteBox have Custom Widgets for them. Along with total 13 widgets to give you more flexibility to customize your website.
7. Post Formats
SiteBox support 8 Post Formats:
Standard
Audio
Video
Gallery
Image
Aside
Quote
Link